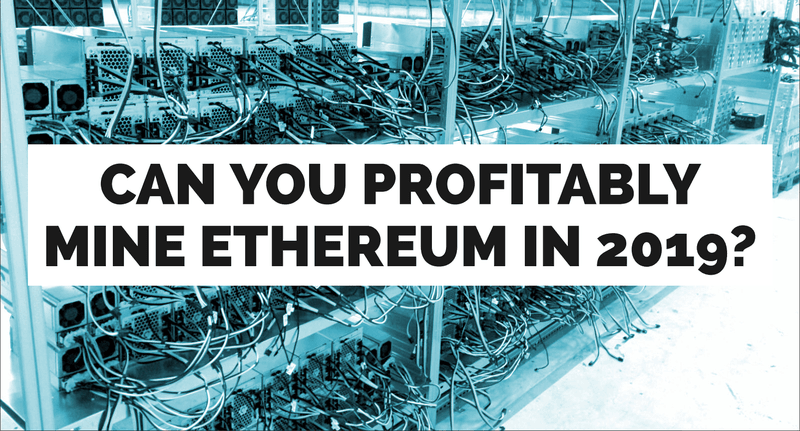 Ethereum Mining in 2019:
Cryptocurrency mining is an extremely dynamic industry with its constant updates to hardware, software, pools, price, difficulty, and profitability, making it harder to calculate your returns and always make money mining. ASIC miners have quickly advanced and upgraded, impacting how much ASICs make and therefore how long it would take you to mine a full Bitcoin.
But what if you aren't interested in solely mining Bitcoin? For example, Ethereum fans may be wondering if it's still possible to start Ethereum mining profitably in 2019? Well, we break it all down for you below...
The State of Ethereum Mining
After the introduction of Bitcoin as the first Cryptocurrency, many others have popped up throughout the years to compete with it. Ethereum is a decentralized cryptocurrency commonly known as the Bitcoin rival. It also boasts the second largest market cap at the time of this post.
Ethereum started as a low profile coin and had trouble gaining a strong community at its inception. But with the hype of ICOs, the price begins to experience uptrend in late 2015. In turn, this gave Ethereum the spotlight for becoming the second largest liquid holding in Crypto. With fame comes investments and the same happened with Ethereum mining. Seeing the Ethereum price touching $1200, the coin quickly gained adoption among many hobby miners who wanted to profit from the opportunity.
Ethereum in nature is the second most liquid asset and is easily tradable across all Crypto exchanges. It also has base pairs with many ERC20 tokens. The most effective use of Ethereum comes from companies looking to raise funds for their projects. The coin gained interest among many Crypto enthusiasts while acting as a funding source for several ICOs. In fact, ICOs are so popular on Ethereum Blockchain that they have contributed to clogging the Ethereum Blockchain at the time of token sales.
However, with the advent of the Crypto Bear market, is it still profitable to go with Ethereum mining in 2019? Let us delve further to reach some conclusion on this topic. But before we move forward, let's talk a bit more about Ethereum mining.
How Ethereum Mining Works
Unlike Bitcoin, Ethereum doesn't run on Sha-256 mining algorithm. It means you need to buy new ASIC miner to mine Ethereum these days. However, Ethereum mining with a large GPU farm would still be profitable. If you have access to cheap electricity but might not be cost effective in the short run.
Buying a Hardware
Ethereum uses Ethash mining algorithm to power its network. Historically, many ASIC hardware companies such as Bitfury and Bitmain were hesitant to produce Ethereum mining machines. But with the popularity of the coin, the shift changed from production of Bitcoin ASIC miners to Ethereum ASIC miners as well. The first Ethereum ASIC miner was available in the market in late 2017.
This was the Bitmain Antminer G2 boasting a hash rate of 220 Mh/s with a power consumption of 1200W. After that, many Ethereum ASIC miners flooded the market. Among them was the Innosilicon A10 ETHMaster that still proves to be most profitable.
The hardware is manufactured by Innosilicon Company, a rapidly growing brand in the mining industry which is giving tough competition to Bitmain and Bitfury.
This Ethereum mining machine provides a whopping 485 MH/s and can generate revenue of $6.34 per day. This is because the machine only uses 850W of Power supply, making it the most efficient mining hardware in the industry right now.
However, the price of this machine is around $5500 which is too much for a hobby miner. And many of them might just look for a cheaper option.
Choosing a Mining Pool
Once you have decided on the Ethereum ASIC miner or the GPU mining rig, you can move on to the next option. This is the choice between the Ethereum mining pools. Of course, you are not going to fire up your machines while doing solo mining unless you have free electricity. Even then, for the average miner this might take forever, to find a block and reap the whole rewards.
There are several pools to start from such as Nanopool, Etheremine, and Sparkpool. But before you just jump on a random one make sure to properly analyze most of them and compare their pool fees. Some pools charge extravagant fees which will lower profitability in the long run.
Ethereum Mining software
For now, you already have an Ethereum mining hardware and a pool to begin with. But you still lack the software to act as an intermediary between hardware and the mining pool. There are several Ethereum mining software you can use depending on your Operating System (OS). If you are running Windows, then Ethminer or Dualminer would be the perfect fit.
In fact, Ethminer has several features that most other software lacks. This includes OpenCL mining, Vida CUDA mining, and on-GPU DAG generation. The software is also available for Linux.
Is Ethereum Mining Still Worth it?
For any investor or even low scale hobby miner, reaching ROI in a decent time period is the most crucial factor that affects their buying decision. You might already have all the stuff required to perform Ethereum mining, but how sure are you about profitability?
During the peak of the Crypto Bull Run, the average Ethereum miner was making a profit of around $0.2 per 1MH/s. This might look quite low but usually, miners have high-end mining rigs with dozens of GPU's or ASIC machines to mint new Ethereum's in the market. These mining rigs usually hash around 25 MH/s and can make a decent profit.
Although with the development of long Crypto bear market many miners have turned off their machines and switched to other ways of making Cryptocurrencies, such as Proof of Stake or Masternodes. But this situation can be advantageous for many new investors looking to mint and hold Ethereum.
Ethereum Mining Calculations
Let's use an Ethereum mining calculator to see how much an average miner can make using Ethash mining rigs.
From the calculations and according to the current market situation, you can easily make around $89 in profits per month using Innosilicon A10 ETHMaster ASIC miner. Provided your average electricity cost is $0.12 KWh. But this is a very costly miner and most of us might not be able to get our hands on it.
So let's take Bitmain Antminer E3 as our next example. With an average hash rate of 200 MH/s and power consumption of 740W, you can easily make around $3.5 with this machine. This might quite seem low but the machine is only available for $750. You can also get a cheaper one which is slightly used increasing your chances to reach ROI within 7-8 months.
For many newbies, this might not seem attractive. But if you are a true believer in the technology and concept behind Ethereum, then holding your coins until the next bull run might be the perfect strategy forward.
Besides, many other coins such as EOS, WAVES, and TRON have put significant efforts to capture the ICO's market from Ethereum and have largely failed. Over 80% of the tokens are still powered on Ethereum Blockchain making it the most used technology for decentralized application and tokenization.
Conclusion
Ethereum mining might still be profitable if you have access to cheap power resource. In fact, it can also prove to be a long term investment for many miners as the Crypto market consolidates at the current price level.
In addition, many new miners can benefit from decreasing network hashrate and the availability of cheap mining hardware. If you have some spare cash then it is better to get your hands on an efficient Ethereum mining rig and pave your way towards passive Crypto income.
Disclaimer:
This is an informative post. All the calculations above are based on a total network hashrate of 142450 GH/s with a block reward of 2 ETH. The Ethereum's price at the time of calculation was fixed at $140. The price in Cryptocurrency and Ethereum block reward can change significantly overtime which can actually incur losses to investors. Thus, in case of any loss or damages, our company or any of its associates will not be held responsible.
Newsletter!
Join our weekly newsletter for the freshest Cryptocurrency, Bitcoin Mining and Blockchain news!